Born: 30 September 1980
Birthplace: Kosice, Slovakia
Best Known As: Three-time Australian Open winner
Height: 170 cm
Weight: 59 kg
She plays: right-handed.
She turned pro in 1994.

Martina Hingis biography and career review:
Martina Hingis turned pro at age 14 and quickly became one of the dominant tennis stars of the 1990s. In 1997 she nearly completed a rare Grand Slam, winning the Australian Open, the U.S. Open and Wimbledon and losing only in the French Open finals. Intensely competitive and a clever shotmaker, Hingis was ranked #1 in the world in women's singles in 1997, 1998 and 2000 and by the end of the year 2000 she had career prize winnings of $15 million. For a time she was part of a high-profile doubles team with fellow teen sensation Anna Kournikova. In 2002 Hingis battled ankle injuries, and in 2003 she announced that she was retiring from competitive tennis. However, she unretired three years later, making her official return to professional tennis on 2 January 2006 in the Australian women's hardcourt championships. She retired again in November 2007 after announcing that her urine sample had tested positive for cocaine at that year's Wimbledon; Hingis denied taking the drug, but said "I have no desire to spend the next several years of my life reduced to fighting against the doping officials."
Hingis's mother has said that Martina was named for tennis star Martina Navratilova... Hingis was born in Slovkia (then Czechoslovakia) but moved to Switzerland in 1987 after her mother remarried... During her days at the top of the tennis rankings, Hingis had a few much-publicized feuds with the Williams sisters, Venus and Serena.

personal life :
Hingis has dated Spanish golf player Sergio García and British footballer Sol Campbell.She was engaged to Czech tennis player Radek Štěpánek, but split from him in August 2007.She has also dated former World No. 2 Magnus Norman.
Martina Hingis playing style :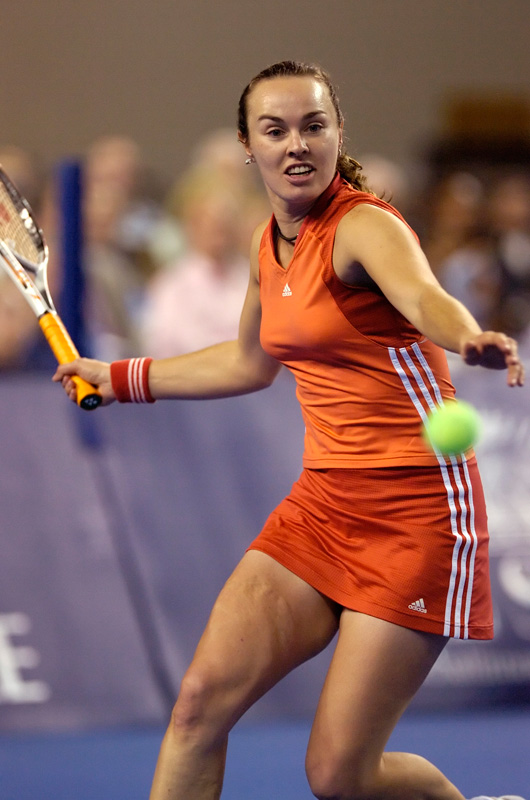 Hingis was renowned for her tactical approach to the game of tennis and for her technical skills, enabling her to produce a wide array of shots with finesse. She lacked the power possessed by many of her contemporaries; therefore, she relied on low error-rates and good shot selection to keep opponents off-balance. She often used change of direction and pace to catch opponents off guard and sharp angles to open up the court. She was also well known for her ability to break long rallies by hitting accurate drop shots and coming to the net, where she was a skilled volleyer. A signature play of Hingis was the drop shot followed by a lob, often resulting in an easy volley or overhead to finish the point. Hingis often hit the ball extremely early by standing close to the baseline (or inside it) in order to take reaction time away from her opponent.
Hingis's strongest groundstroke was her two-handed backhand, which had an extremely low error-rate and great variety. Her backhand down-the-line was among her signature shots and often the shot she chose to hit with greater pace to surprise opponents during a rally.

Martina Hingis retirement
Hingis did not play any tournaments after the China Open, as she was beset by injuries for the rest of the year. However, on November 1, 2007, Hingis said at a press conference in Glattbrugg near Zürich that she was retiring permanently from competitive tennis. She admitted that she had tested positive for cocaine during Wimbledon in 2007. But Hingis maintained her innocence, saying, "I have tested positive but I have never taken drugs and I feel 100 percent innocent." She also said, "I would personally be terrified of taking drugs. When I was informed [about the test] I was shocked and appalled." She is not planning to contest the positive drug test because it could take years. "Because of my age and my health problems, I have also decided to retire from professional tennis." The drug test results were released to Hingis after her third round loss to Laura Granville at Wimbledon, with both "A" and "B" urine samples failing the tests. Hingis then underwent a private drug test on a hair sample, which came back negative and, according to Hingis, is evidence that she did not use cocaine.
Hingis played an exhibition match at the Liverpool International tournament on June 13, 2008. Although this event was a warm-up for Wimbledon, it was not part of the WTA Tour. This allowed Hingis to participate without breaching the rules of her ban.In a rematch of their 1997 Wimbledon final, Hingis defeated Jana Novotná
controversies
Hingis is also well known for usually being outspoken. During her career, Hingis has made a number of statements about her fellow players that have subsequently become the focus of attention and the source of controversy, such as:
Referring to Amélie Mauresmo's lesbianism on the eve of their 1999 Australian Open final, Hingis told reporters, "She's here with her girlfriend. She's half a man already."
When asked in the late 1990s how she felt about the budding rivalry between herself and the then-up-and-coming Anna Kournikova, Hingis responded, "What rivalry? I win all the matches."
After the Williams sisters (Venus and Serena) had complained of discrimination against them, Hingis told Time magazine in 2001: "Being black only helps them. Many times they get sponsors because they are black. And they have had a lot of advantages because they can always say, 'It's racism.' They can always come back and say, 'Because we are this color, things happen.'"
At the peak of the Williams sisters' and Hingis' competitive and fierce rivalry, Hingis stated in a press conference during the 1999 US Open referring to the sisters' remarks, "They always have big mouths. They always talk a lot. It's happened before, so it's gonna happen again. I don't really worry about that."
On the long-dominant player, Steffi Graf, Hingis said, "Steffi has had some results in the past, but it's a faster, more athletic game now than when she played. She is old now. Her time has passed." (Hingis made this comment in 1998 while Graf was on an injury-related hiatus from tennis.)Graf subsequently defeated Hingis in the 1999 French Open final.
Responding in a 1999 press conference on why she terminated her doubles partnership with former Wimbledon champion Jana Novotná, Hingis remarked, "She's old and slow."
The International Tennis Federation (ITF) Independent Anti-Doping Tribunal announced on January 4, 2008, that Hingis was found to have committed a doping offence. The tribunal determined that a sample provided by Hingis at Wimbledon on June 29, 2007, had tested positive for cocaine. The tribunal suspended Hingis from participation in any ITF or associated event for two years, beginning on October 1, 2007. In addition, the tribunal ordered her results from the 2007 Wimbledon Championships and subsequent tennis events disqualified, with the forfeiture of the ITF ranking points and repayment of prize money, totaling US$129,481, that she won at those events.
Quotes
:
"One day you can be a kid, but another day you have to be like this is your job, you play tennis. You have to work for that."
more
Martina Hingis pictures
Note: all the information is take from answers.com and wikipedia all rights reserved by their respective owners