Who is Anastasia "Nastia" Valeryevna Liukin the world knows her as Nastia" Liukin. She was born October 30, 1989. She is a Russian-American artistic gymnast. She is the 2008 Olympic individual all-around gold medalist, the 2005 and 2007 World Champion on the balance beam, and the 2005 World Champion on the uneven bars. With nine World Championships medals, seven of them individual, Liukin is tied with Shannon Miller as the American gymnast having won the most World Championship medals. Liukin has also tied Miller's and Mary Lou Retton's records as the American gymnast having won the most medals in a single Olympic Games.
The daughter of two former Soviet champion gymnasts, Olympic gold medalist Valeri Liukin - the first man to do a triple backflip and World Champion rhythmic gymnast Anna Kotchneva, Nastia Liukin was born in Moscow and moved to the United States as a young child. She began gymnastics after spending time in the gym while her parents coached. Liukin is coached by her father at the World Olympic Gymnastics Academy, her family's gymnastics club in Plano, Texas.
Liukin became a member of the U.S. junior national team when she was 12 years old and won the National all-around title at the age of 13. She was the all-around silver medalist at the 2003 Pan American Games. Since 2005, Liukin has been a key member of the U.S. senior team. She is a four-time all-around U.S. National Champion, winning twice as a junior and twice as a senior. She has been the U.S. senior National Champion on the uneven bars since 2005. Liukin has represented the United States at three World Championships, the 2003 and 2007 Pan American Games, and the 2006 and 2008 Pacific Rim Championships.
Nastia Liukin was born on October 30, 1989 in Moscow, Russian SFSR, USSR. She is the only child of two former Soviet champion gymnasts: 1988 Summer Olympics gold medalist Valeri Liukin and 1987 World Clubs Champion in rhythmic gymnastics, Anna Kotchneva. Liukin and her family are members of the Russian Orthodox church. Her nickname Nastia is a Russian diminutive for Anastasia.
The family moved to the United States when Liukin was two and a half years old, after the breakup of the Soviet Union, and settled first in New Orleans before moving to Texas. In 1994, Valeri Liukin teamed with another former Soviet champion athlete, Evgeny Marchenko, to open the World Olympic Gymnastics Academy (WOGA) in Plano.
Liukin is fluent in English and Russian.She graduated from Spring Creek Academy, located in Plano, Texas, in the spring of 2007. She enrolled as a freshman international business major at Southern Methodist University in January 2008, but took a leave from classes to concentrate on preparations for the 2008 Olympic Games.
Liukin performed all-around in the qualifying round of competition. She qualified to the all-around final with a score of 62.375, which ranked her second among all competitors and 0.35 points behind Shawn Johnson, her friend and Olympic roommate. Liukin also qualified to three event finals: beam, uneven bars and floor exercise; more than any other American competitor.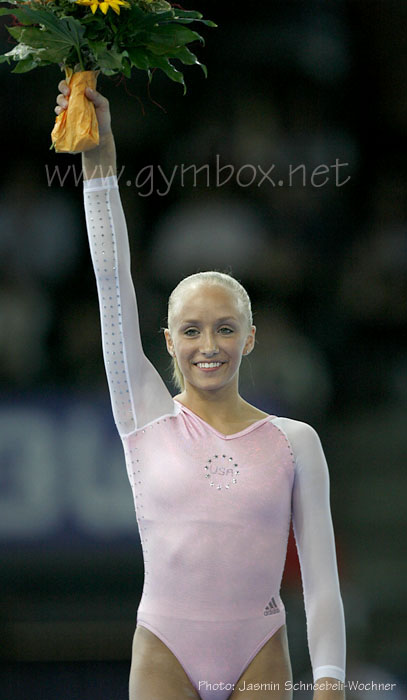 In the team finals, Liukin performed on three events: beam, bars and floor exercise. Her uneven bars score of 16.900 was the highest mark awarded in the entire competition. Liukin performed second on balance beam, matching her qualifying score of 15.975. On floor exercise, she stepped out of bounds, incurring a 0.10 point penalty. The American team earned the silver medal, 2.375 points behind China.
On August 15, Liukin performed clean routines on all four events to win the all-around gold medal with a final score of 63.325. Johnson took the silver medal with a score of 62.725. The win marks the third time that an American woman has won the Olympic all-around title; Mary Lou Retton and Carly Patterson are the two previous American gold medalists. It is also the fourth time in the history of the Games that two athletes from the same country have taken first and second place in the women's all-around. The last time this was accomplished was the 2000 Olympics, when Romanian gymnasts won gold and silver; Soviet gymnasts also won gold and silver all-around medals at the 1952 and 1960 Games.[47]
In the event finals, Liukin earned a bronze medal on floor exercise. On uneven bars, Liukin and China's He Kexin both posted final marks of 16.725, and earned identical A and B-panel scores of 7.70 and 9.025, respectively. However, He Kexin won the gold medal, and Liukin was awarded the silver, after a tie-breaking calculation that took into account individual marks given by judges on the B-panel. In the balance beam final, Liukin finished second behind Shawn Johnson. With her fifth Beijing medal, Liukin tied Mary Lou Retton and Shannon Miller for the most gymnastics medals won by an American in a single Olympic Games.
Outside of competitive gymnastics, Liukin has made several appearances in film and television, most notably a commercial for Adidas with Nadia Comăneci which ran during the 2004 Olympics, a 2008 commercial for Visa Inc., and a cameo in the April 2006 Touchstone Pictures film Stick It.[53][54] She has expressed a desire to become an actress in the future.[14]
Following the Beijing Olympics, Liukin appeared on many talk shows in the United States, including The Tonight Show with Jay Leno, Late Night With Conan O'Brien, and the Oprah Winfrey Show. She has also signed to appear on an episode of Gossip Girl.
She is currently on The Tour of Gymnastics Superstars, which was broadcast nationwide on MyNetworkTV. [56] Tapings of the second show of the tour will be included in Frosted Pink with a Twist, which is a television special about women's cancers. Scheduled for nationwide broadcast on ABC on October 12, 2008, [57] the television special also features singers Jesse McCartney, Kenny Loggins, and Grammy Award winning singers Cyndi Lauper and Carole King
Liukin has her own line of gymnastics equipment, which includes mats and balance beams in her signature pink, produced by American Athletic, Inc.
Liukin has several corporate sponsorships, including Visa, AT&T, GK Elite Sportswear, Longines and Adidas, and has served as a Longines Sports Ambassador of Elegance since 2006. In June 2008, Liukin and her teammates Shawn Johnson and Alicia Sacramone became the first female athletes ever to be signed as CoverGirl spokesmodels. She has also helped with World Vision, to help her home state of Texas to recover from Hurricane Ike.
After the Beijing Olympics, she was signed to be one of two American Olympians featured on Wheaties cereal boxes.